Welcome to the City of West Fork, A
rkansas
West Fork, nestled in the Ozark Mountains, is ten miles south of the University of
Arkansas at Fayetteville, Arkansas, and a half-hour drive to the home offices of Wal-
Mart and Tyson. West Fork is nearby to popular destinations such as the Crystal
Bridges Museum, Beaver Lake, Devil's Den State Park with hiking and biking trails,
and the War Eagle Mill Arts and Crafts Fair.
West Fork was founded in the 1880s on the banks of the West Fork of the White
River. Founded by the timber industry, milling, and railroad commerce, our historic
homes, parks, library, Farmers Market and community events preserve a small town
feel in an area of rapid growth with a diverse and an expanding economy. Our
beautiful Ozark Mountain scenery, mild four seasons, one of the best school
districts in Arkansas, and opportunities for employment, recreation and higher
education, make West Fork "Where the Best Begins".
For more information about the City of West Fork, call City Hall during normal business hours at 479-839-2342.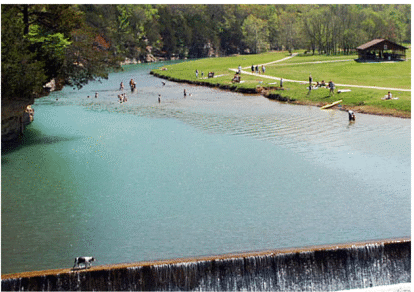 Mayor's Message
We have had an exciting and busy month with an active and productive West Fest, a
new hire for the police department secretary, and a search for a new Police Chief.
The grant for street improvements has been approved, and we have a presentation
in Little Rock this month for a grant to add a trail, butterfly and rain garden, and
easier access to Riverside Park.
We are moving forward with the Sewer Project, having completed the archeological
digs on the pipeline route to Fayetteville and smoke tests to detect problems in our
sewer system.
West Fest proved to be one of the best we have had with a variety of vendors,
exciting parade, car show, entertaining music, helicopter rides, great food and more.
Thank you to this year's West Fest Committee members, John Collins, Kira Hungate,
Misty Caudle, Clay Hungate, Nancy Kirkner, Rose Marshal-Parker, Megan Webb, and
Francis Harderson for the work they put into this event. They are already talking
about next year's West Fest and what they might add to it.
We welcome Cheryl Paladino to City Hall and the Police Department. As the new secretary, she is
working hard to learn the job duties and will be an asset to the new Police Chief as the Police
Commission and Mayor work through the 24 applicants to find the right choice to present to the Council
for approval.
We have a committee of six who are working on ideas for activities and improvements to the
Community Center/Senior Center. Their "55+ and Alive" campaign and survey at West Fest netted them
a variety of interests that our senior citizens have. Misty Caudle has volunteered to help with current
activities at the center as an acting director.
Fall is in the air, kids are once again busy with school, and the persimmon fruit has revealed a "spoon"
(snow) with a reminder that winter is on its way.
City Council Seat in Ward 3 is open. Anyone who lives in Ward 3 who is interested needs to fill out a request to be considered for
this postion. Forms are at City Hall and can be picked up any time before the November Council Meeting.
Announcement - City Council seat open