Welcome to the City of West Fork, A
rkansas
West Fork, nestled in the Ozark Mountains, is ten miles south of the University of
Arkansas at Fayetteville, Arkansas, and a half-hour drive to the home offices of Wal-
Mart and Tyson. West Fork is nearby to popular destinations such as the Crystal
Bridges Museum, Beaver Lake, Devil's Den State Park with hiking and biking trails,
and the War Eagle Mill Arts and Crafts Fair.
West Fork was founded in the 1880s on the banks of the West Fork of the White
River. Founded by the timber industry, milling, and railroad commerce, our historic
homes, parks, library, Farmers Market and community events preserve a small town
feel in an area of rapid growth with a diverse and an expanding economy. Our
beautiful Ozark Mountain scenery, mild four seasons, one of the best school
districts in Arkansas, and opportunities for employment, recreation and higher
education, make West Fork "Where the Best Begins".
For more information about the City of West Fork, call City Hall during normal business hours at 479-839-2342.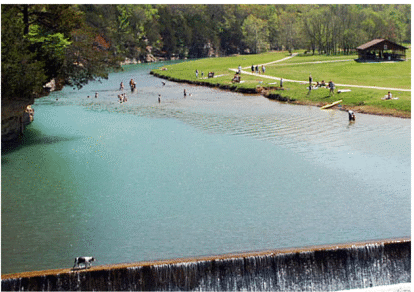 Mayor's Message
NOTICE OF PUBLIC HEARING ON BONDS
Notice is hereby given by the City of West Fork, Arkansas (the "City") that the City
proposes to issue water and sewer revenue bonds (the "bonds") for the purpose of
financing all or a portion of the costs of extensions, betterments and improvements to
the sewer facilities of the City's water and sewer system, including particularly,
without limitation, a sewer main to connect to the City of Fayetteville's sewer system
in order to close down the City's sewage treatment plant (the "Project"). The bonds
will be issued as follows: (a) a temporary bond in the maximum principal amount of
$350,000 in order to pay planning and design costs, other preliminary expenses and
bond issuance costs; and (b) a permanent bond in the maximum principal amount of
$5,800,000 in order to refinance the temporary bond and to pay Project costs and
bond issuance costs. A public hearing concerning the proposed issuance of the bonds
will be held by the City Council at 6:30 o'clock p.m. on the 24th day of November,
2014, at West Fork Fire Department. At the public hearing, all interested persons shall
have an opportunity to be heard, orally and in writing, concerning the Project and the
bonds.
PUBLIC HEARING NOTICE
The City of West Fork Planning Commission will meet on Monday, December 8, 2014, at 6:30 PM at
299 W. Main St, West Fork, AR. in the West Fork Fire Station to hear those who wish to be heard
regarding endorsement of the Northwest Arkansas Regional Bicycle and Pedestrian Master Plan, and
more particularly the adoption of that part of the Plan encompassing the city's planning area as the
City of West Fork Bicycle and Pedestrian Master Plan. A copy of the Plan is on file at City Hall, and is
available for public inspection and review during normal business hours. If adopted by the Planning
Commission, the Plan will be certified to the legislative body of the city for its adoption. The public is
invited and encouraged to attend and participate in this public hearing.